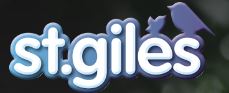 At St.Giles, we understand each child is unique with their own needs, goals and situation.
Our therapy teams look to empower participants to transition into community-based supports and activities in natural environments. We do this by ensuring families and participants are at the centre of all we do.
We offer our services through Early Intervention, School Age and Speciality teams.
Below, you can find out more about our range of therapy services, our approach to therapy, the benefits and ways you can get in touch