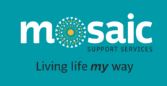 How can we support you?
At Mosaic Support Services we live our Mission of enriching and improving the lives of people with disabilities and their families by offering personalised services, programs, and experiences for our clients.
We have something to suit everyone at Mosaic Support Services and strongly believe in building supports around the client, to support them to achieve their individual goals. If you have any questions please reach out to our experience Intake team, they can talk to you about your options and support you through your journey.
At Mosaic Support Services our Values allow us to attract passionate and motivated employees who uphold our Vision and support our clients, Living life my way.
Our Support Options
Community Access
Community Access is a range of day and weekend programs, and are designed to support clients both individually and as part of a group setting. At Mosaic our programs are all about YOU!
Respite Options
When you stay at respite, you can rest easy knowing you are supported in a safe home-away-from-home environment. You can expect fun, flexibility, variety, and opportunities for all.
Supported Independent Living
Supported Independent Living provides the opportunity for people living with disability to gain independence by being supported to live in their own home, and achieve their independence goals.