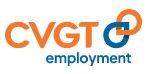 Connecting people to meaningful work for 40 years
 Our team is ready to match job seekers with the right employer. We understand the barriers you face and provide the support you need. Our free services help people of all ages and backgrounds. 
We are a not-for-profit, for-purpose charity with more than 120 locations across Victoria, New South Wales and Tasmania. We are committed to helping our local communities succeed, promoting inclusive employment solutions that help people and businesses grow.
See all the ways our programs can help you
CVGT Employment offers a range of employment programs that deliver individual results for job seekers and employers.
I have an injury, illness or disability
We help people with a disability, injury or health condition (including anxiety and depression) find and keep a job.