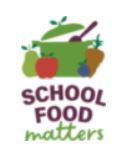 The name School Food Matters was adopted in 2021 to better encapsulate our work within the whole school environment and not just the school canteen.  We support school communities to promote and provide a school food service that is nutritious, affordable, safe and where possible, locally sourced and prepared by the school.
We are a not for profit, non-government organisation funded and supported in-kind by the Tasmanian Department of Education, Children and Young People, Department of Health and Department of Premier and Cabinet (Communities).
Support is provided through:
assisting with the development of an efficient food service that has sound management and operations
current and effective food safety information
resources and advice on food selection and menu planning
assisting with the development of policies and practices that support a whole school approach to food and nutrition and links to the Australian curriculum.
delivering professional learning for school food service managers, teachers and the school community
assisting schools to achieve the SmartFood Award.
assisting schools to develop their School Food Plan.